Please consider a year end donation by clicking on ​the
tab above, "YOU CAN HELP"
​and then click: "GIVE!"

​

The Ranch would like to wish everyone a wonderful Christmas Holiday and Happiest of New Years!
We pray you will remember that
"JESUS IS THE REASON FOR THE SEASON"...
​Blessings from the Staff & Board of Directors.

Thank you for helping us see
20 years of ministry to the special needs community.
We are so grateful for
​your support.
4800 Faith Trails, Concord, NC 28025
wingsofeaglesranch@gmail.com
704.784.3147
Your Kids, Our Horses & God's Love!
See for yourself the joy and growth that grows out of the wonderful combination of your kids, our horses and God's love! We are a place where symbols of limitations transform into limitless possibilities. We are a non-profit (501)(c)(3) organization specializing in therapeutic horseback riding and offering high and low ropes facilities and outdoor adventures for children with special needs. Here's
what we do
:
Therapeutic horseback riding
Riding lessons for all skill levels
High and Low Rope course adventures
Fishing, canoeing, paddleboats
Hiking/biking trails
Leadership Development Activities for Youth Groups, Corporate & School Field Trips
Call us at 704.784.3147 or
email us
today to set up an appointment to come visit the Ranch and see how we can help you!
All our high and low elements are facilitated by ACCT (Assoc. of Challenge Course Technology) Certified and fully trained staff.
---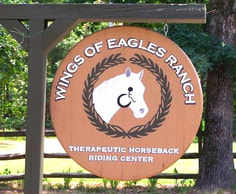 Directions
Please use Google Maps
We are situated on 88 acres of beautiful countryside in Cabarrus County at:
4800 Faith Trails
Concord, NC 28025
Just off Miami Church Road, five miles East of Hwy 601.

All maps will bring you to Thunderbolt Road.....
Please DO NOT USE THE THUNDERBOLT ROAD ENTRANCE
Faith Trails is approx. 30 yards further down.
---
Have you never heard? Have you never understood? The Lord is the everlasting God, the Creator of all the earth. He never grows weak or weary. No one can measure the depths of his understanding. He gives power to the weak and strength to the powerless. Even youths will become weak and tired, and young men will fall in exhaustion. But those who trust in the Lord will find new strength. They will soar high on wings like eagles. They will run and not grow weary. They will walk and not faint. - Isaiah 40:28-31

---

A sweet letter from one of our riders.....

dear gentle reader, busy as you are , many busy people with jobs and families give an hour once a week, thirty six weeks a year so that I can live the dream of learning good equitation, though paralyzed by stroke, I am thrilled to be a rider at wings of eagles ranch , like horses?, intrigued by conspiracy theories? come on lets go take a look at both. we find our way to Miami church road there! just past thunderbolt road turn left on faith trails here we are eighty five acres about twenty horses and probably two hundred riders mostly children, many adult like myself, all with varying special needs and or disabilities more than much uplifting joy, the physical and cognitive benefit have given me to progress to a much higher level of recovery than seemed possible after traumatic brain injury what a conspiracy of miracles and blessings to transform the impossible into the seemingly impossible now some horses. my first experience here, winter and spring session 02 my mount was Cajun a dark brown quarter horse he also taught me not to let the horse to take advantage of me. if I stood too close to him he would give a push with his nose , when riding in the arena he would try to go out the open gate if i was not focused, he moved me up the learning curve until he was retired due to age, then I began riding allie's show horse skip wich brings us to the core of this conspiracy of miracles and blessings the Cronin family, who is allie? when I started riding here Alexandra was a young teen who dispelled any notions that girls who ride show horses are snooty and self centered I saw first hand that she worked hard and cheerfully along with her family to make therapeutic horse back riding possible for me and so many others, I am so thankful for the many volunteers who came together with the Cronin family to make this happen this is a letter of support for wings of eagles ranch by a rider of fifteen years jim thomas